Explore
Historic Powhatan
Take an in-depth look at the buildings, businesses, and people that helped shape Powhatan's history. Researchers have compiled maps, historic photos, newspaper articles, biographical information and more into a seamless interface that allows users to explore Powhatan throughout time.
About the Project
Launch Application
About Powhatan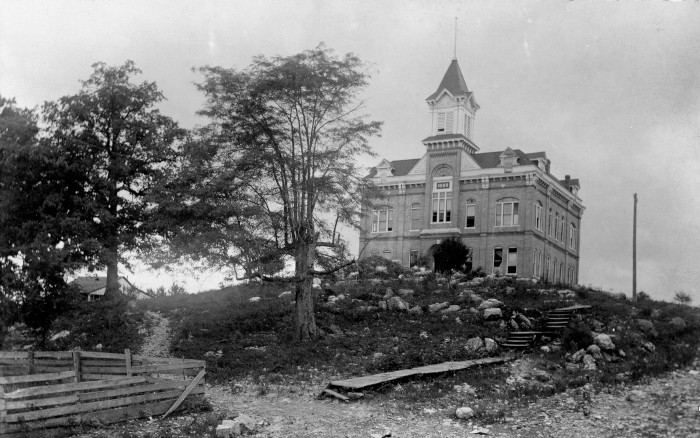 The large 19th century courthouse sits atop the hill above the Black River as a visual reminder of Powhatan's rich history.
Today, Powhatan is a sleepy river town but in the mid-to-late 1800s it was a bustling hub of river traffic and commerce. Located where the Black River met the early road system in Lawrence County, Powhatan was where steamboats landed goods and passengers for movement overland to communities throughout northeast Arkansas. Due to such economic activity, the community prospered, attracted new settlers, and boasted a population between 400-500 in its prime. In 1869, the town was chosen by voters as the county seat of Lawrence County, a role it shared with Walnut Ridge starting in 1890. Powhatan's first courthouse was built in 1873 and destroyed by fire in 1885. Luckily, a fireproof record vault had been installed and saved Lawrence County's archive of judicial, legal, and historical records from disaster. From the ashes of this unfortunate situation a larger two-story courthouse was constructed in 1888 that still stands today. However, as with many river towns, Powhatan began a slow decline shortly after the railroad bypassed the town in the 1870s. The shift from riverboat to railroad commerce saw many of the families and businesses that once called Powhatan home slowly move away throughout the early 1900s, drawn to railway towns such as Black Rock and Walnut Ridge. In 1963, voters chose to consolidate the county seat, abandoning both of the old courthouses in favor of a single new building in Walnut Ridge. In 1974, ownership of the Powhatan courthouse and several of the town's historic structures was transferred to Arkansas State Parks where they are still preserved today.
Many of the historical records from Powhatan have been preserved in the Northeast Arkansas Regional Archives located just across the road from Powhatan State Park. Deed records, court proceedings, plat maps, newspaper articles, personal letters, and more help preserve the town's history and provide interesting insights into the lives of the people who have called Powhatan home. These people built homes and businesses, raised families, and lived their lives in Powhatan leaving their mark on the landscape and in the historical record. A total of six original structures have also been preserved throughout the town. The purpose of this website is to connect the historical record with the people who shaped Powhatan's history and the physical landscape of the town using such items as deed records, photos, documents, and biographies. The resulting maps allow the visitor to see how Powhatan evolved throughout time and to take a deeper dive into the historical record.
---
About the Project
How it Started
The Powhatan Historic Mapping project began in 2018 as a response to a need to centralize research pertaining to the town's history. Researchers at Historic Powhatan State Park compiled documents and photos from the town's history and extracted useful land transactions from deed records and needed a solution to better manage and unify the information. The Center for Advanced Spatial Technologies (CAST) at the University of Arkansas built a similar spatial management solution for Historic Washington State Park (researcher-only interface) and for a portion of downtown Historic Little Rock. With funding from the Arkansas Natural and Cultural Resource Council (ANCRC), CAST researchers were able to customize the application for the Powhatan research team and integrate the existing documents and research they had completed to date. The current website features a public interface with maps, media, and biographical viewers as well as a private researcher interface that allows qualified staff to update records, upload new historical content, and digitize new entries. It is constantly changing, so check back for updates!
Description
The Powhatan Historic Mapping project takes an in-depth look at the buildings, businesses, and people that helped shape Powhatan's history. Researchers have compiled maps, historic photos, newspaper articles, biographical information and more into a seamless interface that allows users to explore Powhatan through time. The map-driven interface is interactive and spans almost 200 years of history from 1830-present. Select a year to see which buildings were present, then select a building to explore and learn more. Next, select the Connections button to see the people, events, photos, and other media related to that building. All of the information presented here is interactive and interconnected allowing users to explore the intricate web of early Powhatan history.
Start exploring Historic Powhatan
Methodology
The project began with an Excel spreadsheet that was the result of several years of research by park staff. The spreadsheet contains entries for land transactions that were transcribed from original deed records. An entry typically described the plot of land (a partial lot, whole lot, or multiple lots), the name of the original owner(s), the name of the new owner(s), and the purchase price. CAST researchers took this information and transferred it to block and lot map layers of the town. This process connects individuals with land, specifically lot boundaries.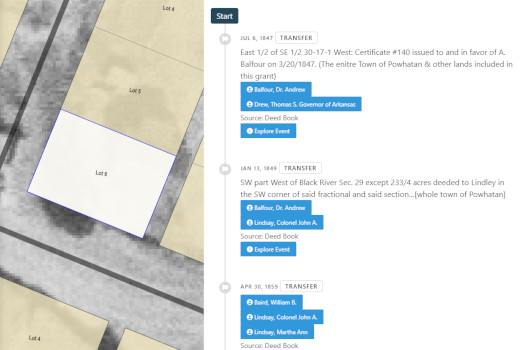 Next, historical photos, newspaper articles, deed records, and other documents were added to the system database. All of the photos of buildings were positioned on the map starting with the approximate location of the photographer. A field of view was then created showing what could be seen in the photo. If a building was located within the photo field of view, then the photo was linked to the building and vice versa. The same applied for newspaper articles. If a newspaper article referenced a specific building, then the article and building were linked in the system database.

Finally, information about people was added to the system. This began with references to people in land transactions taken from the deed records. If an individual was associated with a lot, they were connected to that lot through a lot event. People can also be associated with a building on a lot through photos (i.e. a photo of a person in front of a building) or newspaper articles (an article that references a new business/occupant of a building). Biographical information and photos of people were added where available. Again, this project is a work-in-progress so there are many places where there is currently no information available, however there are placeholders so that this information can be added by researchers in the future.